At Vintage Connections we know that your time is precious.
Please scroll down for basic pricing structure and tour options.
Our Luxury Vehicles
Travel in style, comfort and safety in a modern luxury Mercedes Benz.
Eco friendly and carbon foot print sensitive, our vehicle of chioce has the lowest emissions in its class.
Tours We Offer
We offer half day private wine tours, full day private wine tours and a two day private tour and transfers package.
We also offer a gourmet food and wine tour, a chocolate and wine tour, a cheese and wine tour, an Eco tour, a romantic wine tour, and various custom wine tours.
Gourmet Wine Tour Experience
Our private wine tours have options to include a gourmet lunch, a wine matched meal, degustation, a gourmet cheese and wine experience, cheese and charcuterie platters, or a gourmet chocolate and wine pairing experience.
Tour Inclusions
Included in all our tours is an on board food grade refrigerator, quality chilled spring water, free travel to and from your accommodation in the local Pokolbin/Cessnock area, a local connected guide, and HALF PRICE after hours private transfers on the weekend of travel.
What makes us special
Our passion for the Hunter Valley, food and wine, and our attitude to customer service will ensure that your Private Wine Tour experience is AWESOME.
Please take the time to look at our reviews.
We have a specific emphasis on quality and luxury with a dedicated focus on high end customer service.
We even offer a half price private transfers service to wine tour participants, to enable us to make your whole Hunter Valley experience seamless.
Drawing on many years of experience and local connections, we are able to provide you with a custom wine tour, to help make your perfect day in the Hunter Valley.
Our wine tours are specific and also very flexible.
You will enjoy insider privilege and a wine tasting experience that is matched to your taste.
All of the wineries that we visit specialise in high quality boutique wine.
Vintage Connections Cares
We take care to minimize our packaging, and practice chemical sensitivity/Eco sensitivity in our business operations.
Get a quick taste of what the Hunter Valley can offer with a half day wine tour with an expert guide.
Explore
See more, do more, with a full day wine tour throughout the Hunter Valley with Vintage Connections.
Explore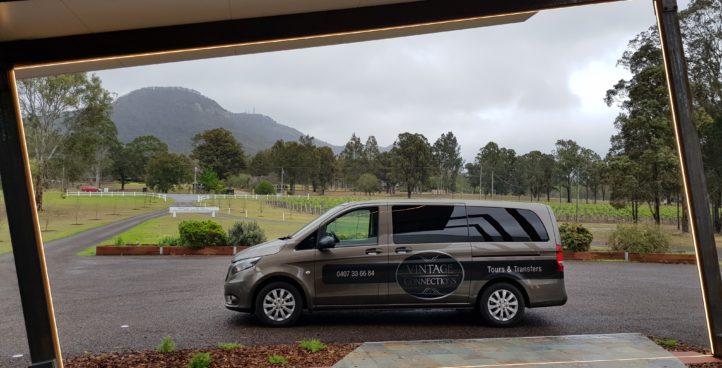 Immerse yourself into a two day indulgent wine tour throughout the Hunter Valley with Vintage Connections.
Explore
Experience the Hunter Valley with a private romantic tour entertained by an experienced local guide.
Explore
HALF DAY WINE TOURS

4 hours between 10:00am and 5:30pm
Basic cost $275 for two passengers
+ $50pp
ie – 2 passengers $137.50pp, 4 passengers $93.75pp, 8 passengers $71.90pp
CUSTOM TOURS

Hours variable – $ variable
Romantic Tour – Love in the vines
$ variable, max 8 passengers
Two day tour
$ variable, max 8 passengers
FULL DAY WINE TOURS
7 hours, 10am to 5pm
Tailor Made – The Ultimate in Flexibility
$375 for two passengers
+ $75pp max 8 passengers
ie – 2 passengers $187.50pp, 4 passengers $131.25pp, 8 passengers $103.15pp
Inspirations Tour – Includes world class cheese & wine or chocolate & wine experience at a top end winery, lunch *a free 750ml bottle craft beer or Bubbly* – first winery pre-booked by Vintage Connections, afternoon flexible or customer choice.
$425 for two passengers
+ $125pp max 8 passengers
ie: 2 passengers $212.50pp, 4 passengers $168.75pp, 8 passengers $146.90pp
Eco Tours – Includes Organic meal – footprint and chemically sensitive – vegan friendly.
$425 for two passengers
+ $125pp max 8 passengers
ie: 2 passengers $212.50pp, 4 passengers $168.75pp, 8 passengers $146.90pp
You might be flying in to Sydney and wish to come to the Hunter via helicopter, or have booked a Romantic Tour that starts with a dawn balloon ride and a wine matched meal with a violinist, or you may have booked a two day tour and transfers package that includes grape stomping and a sunset sailing charter complete with prawn and fresh local oysters dinner…Let Vintage Connections take you to the place where your heart sings!!
Vintage Connections provides a private transfer service in the Hunter Valley.  You will travel in our luxury, climate controlled, Mercedes Benz which has an ANCAP 5 star safety rating. As an accredited and authorised service provider with the NSW Transport Commission, we take your safety and the safety of others seriously at Vintage Connections. We have a range of return transfer options that include transfers to quality Hunter Valley restaurants, domestic and international airport terminals, cruise ship terminals and to special venues and concerts.
Stay Safe