Love Good Wine? So do we!
Wine, flavour, experience. We've got you.
Flexible, customised private luxury Hunter Valley wine tours.
Half day 4 hour private tours from $85.00pp (8 passengers)
Full day 7 hour private tours from $110pp (8 passengers)
CHECK AVAILABILITY –
start a conversation to determine availability and suitability of a Vintage Connections private tour for you.
We offer flexible, small group wine tours:
You will enjoy insider privilege and a wine tasting experience that is matched to your taste.
Where possible the wineries that we visit specialise in small batch high quality boutique wine made with local Hunter Valley fruit.
Enjoy vertical Wine Tasting experiences.
Vintage Connections is a Hunter Valley boutique wine tours specialist.
Discover your, Terrior – If you think that this is a rhyme, then it is definitely time, to discover boutique wine, with Vintage Connections.
You will also have access to a "story book" of your experience, free of charge.
A tour with Vintage Connections is like unpacking a gourmet picnic hamper.
We talk with you and find out where you are at in your wine journey, and design a flexible tour that suits you and your group.
Alternatively, you can supply us with your itinerary and we can use our local knowledge to help you plan a wonderful day.
Often we hear the bemused words "I love this wine but I normally am not a fan of this type of wine!"
Please click here for basic pricing structure on all of our tour options.
Are tasting fees included? Click here to find out more.
Flexible, custom wine tours.
What makes us special
It's about passion, people and connections.
Personal Hunter Valley Wine Tours. We tailor the tour to your tastes.
Private tour experiences at lesser known places.
Meet the farmers and wine makers who craft Hunter Valley wine.
Wine education – flavour and the human response.
Discover fantastic wine and uncover hidden gems!
Your time is precious – Make the whole day count!
We have a specific emphasis on quality small group luxury private wine tours, with a dedicated focus on high end customer service.
Our passion for the Hunter Valley, for food and wine, our attitude to customer service, and our local knowledge will ensure that your Hunter Valley Wine Tour experience will be seamless and matched to your needs and desires.
Our goal is always to make customers for life!
Please take the time to look at all of our reviews – see what our customers are saying!
General Tour Information, or scroll down for specific tour details.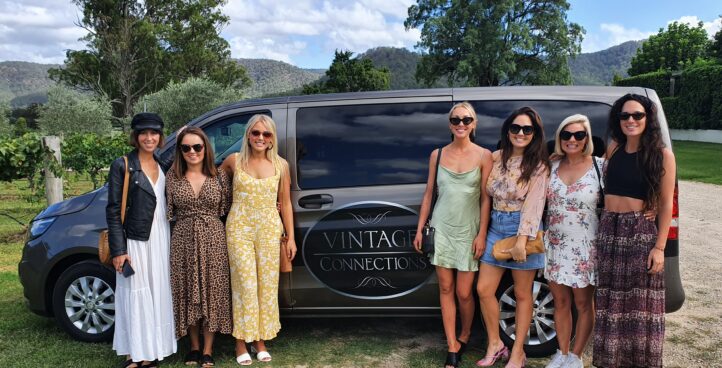 Get a quick taste of what the Hunter Valley can offer with a half day wine tour with an expert guide.
Explore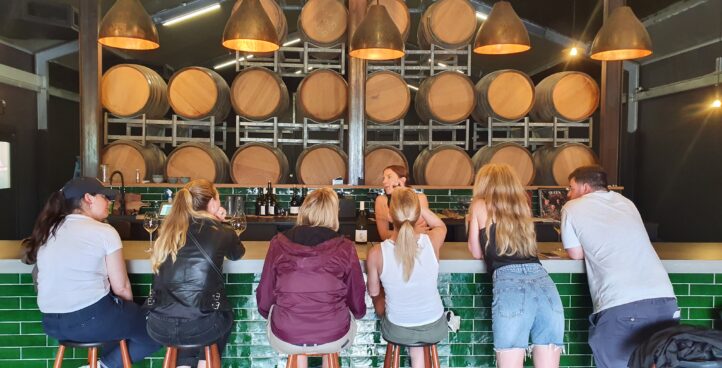 See more, do more, with a full day wine tour throughout the Hunter Valley with Vintage Connections.
Explore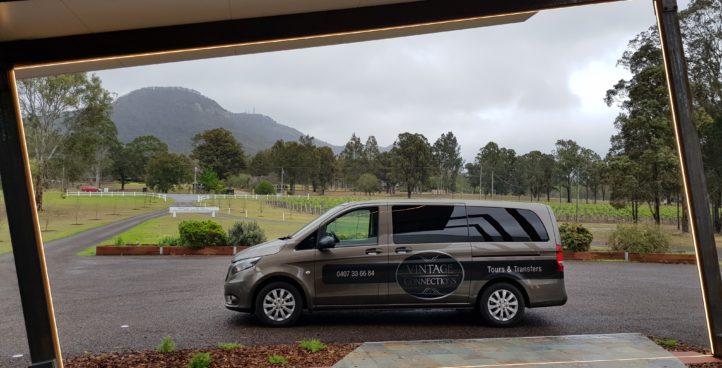 Immerse yourself into a two day indulgent wine tour throughout the Hunter Valley with Vintage Connections.
Explore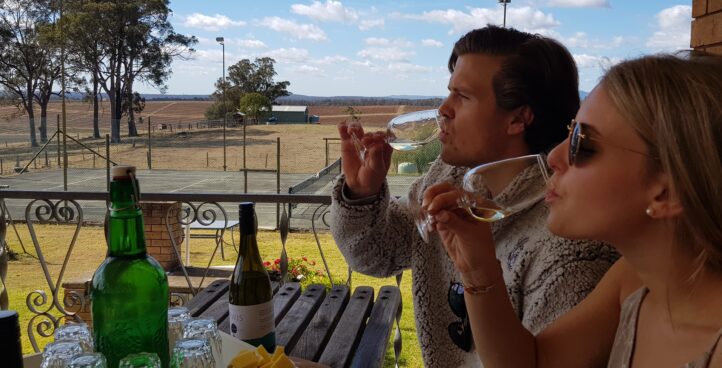 Experience the Hunter Valley with a private romantic tour entertained by an experienced local guide.
Explore
PRICING –

Saturdays are charged at a

minimum of 4 passenger full day tour rate. $575
HALF DAY WINE TOURS

4 hours between 10:00am and 5:00pm
Basic cost $375 for two passengers
+ $50pp
ie – 2 passengers $187.50pp, 4 passengers $118.75pp, 8 passengers $85.00pp
CUSTOM TOURS

Hours variable – $ variable
Romantic Tour – Love in the vines
$425 recommended for 2 passengers. Saturday rate $575
Two day tour
$ variable, max 8 passengers
Cancellation Policy – All deposits refunded are subject a $50 administration charge. (for planning, organising and un-doing the tour bookings etc)
Deposits paid for tours that are cancelled due to compulsory Corona virus LGA snap lock downs will be refunded, or postponed indefinitely.
Less than 24 hours – 0% of deposit paid
More than 24 hours and up to 7 days 25% of deposit paid
More than 7 days and less than 14 days 50% of deposit paid
More than 14 days full refund deposit paid available
FULL DAY WINE TOURS
7 hours, 10am to 5pm
Tailor Made – The Ultimate in Flexibility
$425 for two passengers
+ $75pp max 8 passengers
ie – 2 passengers $425, 4 passengers $144pp, 8 passengers $110pp
Platters Full Day Private Tour – Includes 1 top quality cheese/charcuterie platter per 4 passengers at a top end winery
$455 for two passengers
+ $90pp max 8 passengers
ie: 2 passengers $227.50pp, 4 passengers $160.00pp, 8 passengers $125.00pp
Eco Tours – Organic wine tours – footprint and chemically sensitive – vegan friendly.
$425 for two passengers
+ $125pp max 8 passengers
ie: 2 passengers $212.50pp, 4 passengers $144pp, 8 passengers $110pp
You might be flying in to Sydney and wish to come to the Hunter via helicopter, or have booked a Romantic Tour that starts with a dawn balloon ride and a wine matched meal with a violinist, or you may have booked a two day tour and transfers package that includes grape stomping and a sunset sailing charter complete with prawn and fresh local oysters dinner…Let Vintage Connections take you to the place where your heart sings!!
Vintage Connections provides a private transfer service in the Hunter Valley.  You will travel in our luxury, climate controlled, Mercedes Benz which has an ANCAP 5 star safety rating. As an accredited and authorised service provider with the NSW Transport Commission, we take your safety and the safety of others seriously at Vintage Connections. We have a range of return transfer options that include transfers to quality Hunter Valley restaurants, domestic and international airport terminals, cruise ship terminals and to special venues and concerts.
Stay Safe
CHECK AVAILABILITY
start a conversation to determine availability and suitability of a Vintage Connections private tour